Are you interested in nutrition and health, and leading a vibrant life? Do you like listening to other people? Do you think you would make an excellent coach?
These were all factors of my decision to take the one-year Health Coach/Nutrition program in New York City.  I didn't know much about nutrition before I moved to New York in 2010, and started working with sales, marketing and brand management. My background was in just that – international business, economics, marketing and brand management. I gradually started learning the significance of what terms such as organic, grass-fed, and all natural mean. I also started to understand the difference between these kind of products and "conventional" ones.
How and why I chose this path
As I worked with my customers (food retailers), helping them bring in new, healthy products to the marketplace, my own interest in learning more kept growing. I wanted to be able to better educate my customers, and tell them of the actual health benefits of the products I represented. I read a lot of blogs – on both health/food, fashion and lifestyle – and in one of the health blogs I read, I happened to stumble upon a program in nutrition.
I enrolled in the May 2012 program, and will be finishing my studies this May (2013). Since I live in New York, I've been able to attend a live conference through the school, which was a great experience! About mid-way through the program, you get a pre-certification and can officially start coaching clients. Much earlier than that, you can start doing "initial health consultations" with friends and people you know. This is a practice for the work ahead, but also a way for you to connect with potential future clients. Even if they don't end up signing up for your program, they may know someone who will. It's all about networking and making connections. I had four clients before graduating, who signed up for the 6-month program I offer.
Benefits for your own health
During this education program, I got to listen to numerous famous health and nutrition experts, and learn about over 100 dietary theories. Not only that – you will learn about holistic approaches to health, which include a healthy mind, body and soul. You will learn about how your surroundings, your entire lifestyle, and even the way you think affects your health in important ways. Meditation, self-care, exercise – all important factors in getting a better holistic connection with yourself and your life. We are here once, so why not make the most of it? I used to think that that means partying as much as you can and sleeping as little as possible, but as I've gotten "more mature", I've started to realize that you also need to feel good. Otherwise none of the other stuff matters. When I began the program, my cholesterol was high (still healthy, because my HDL was very high while my LDL was fairly low – but it was still high!). Now it has gone down to being perfect! I know it is because I've acquired a more balanced diet. Definitely with the help of everything I've learned at the school. A lot of people take a program like this just for their own and their families' health (and also a lot of models take it, I've heard). You don't even have to want to have clients; it's affordable enough to just take as an important learning experience.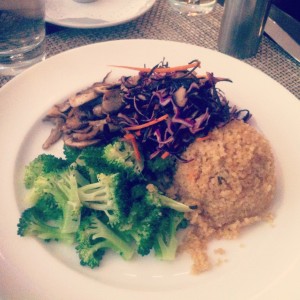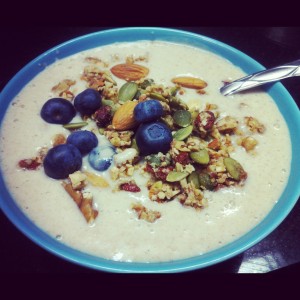 Working with clients
I knew all along that I wanted to work with clients! Something I've always been passionate about is inspiring and motivating others. I am very curious by nature, and always ask people a lot of questions – so what could be better than using this skill to help them with their health, now that I have the knowledge?
It can be a bit challenging to get clients in the beginning. But you've just got to get out there. Set goals for yourself to get started, and do two initial consultations a week, with friends and acquaintances. It is recommended to work with clients in six-month programs, where you set goals together with the client, and then work towards those in bi-weekly 50-minute sessions. Studies have shown that when you implement certain patterns over the course of six months, it is easier to maintain these long-term. The school usually guides you through how to set up your business, get clients, and all of that. They provide you with a ton of resources to get started as well, so it truly is very easy!
Some facts about the program
This program will take up between 5-7 hours of your time weekly, depending on how much you focus on it. Of course the more the better, but I'd like to highlight that it's totally doable to work alongside the studies. Personally, I kept my job, but cut down to four days a week, which I think has been a very good decision. Working in the food industry and as a health coach adds tremendous synergies to one another.
Feel free to email me if you have any questions. I offer a free coaching session as well!
Annika Sundberg | 30 | New York City | from Helsinki, Finland
annika.healthcoach@gmail.com | www.annikasundberg.com